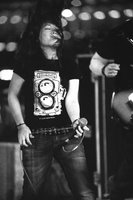 Recently just took up a black and white printing course at SAFRA, in order to "graduate" need to submit 4 prints, so these days looking around for subjects to shoot in B&W. And what better than to go to a jamming session with rock musicans playing instruments and hopping around!

So that was why my gf and i was at the Esplanade open air theatre watching the next installment of Mosiac Jam where musicians from the local clubs come together and jam.

At the same time i was trying a new film,Ilford's Delta 3200(ok the film is not that young but for me its the first time i was shooting with it). The light conditions wasn't so good, so i waited for the show to start, i took a spot meter reading from the musicians face while they were playing and its abt 1/90 @ f2.8 for iso 6400.

So as they play, i shoot away, the results are at my flickr site. Too bad for the slight drizzle at the end though..

From the photo.net forums, seems like DDX will give the best grain for the speed so i decided to develope it in DDX, 1l cost $28 from Ruby, whao abit expensive though. I develope for abt 11mins @22c. The results were good grain was ok tone was good. Good developer for use with Delta 3200.